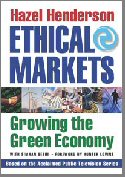 Triple bottom-line practices for twenty-first-century business
With insight, clarity, warmth, and enthusiasm Hazel Henderson announces the mature presence of the green economy. Mainstream media and big business interests have sidelined its emergence and evolution to preserve the status quo.
Throughout Ethical Markets Henderson weaves statistics and analysis with profiles of entrepreneurs, environmentalists, scientists, and professionals. Based on interviews conducted on her longstanding public television series, these profiles celebrate those who have led the highly successful growth of green businesses around the world.