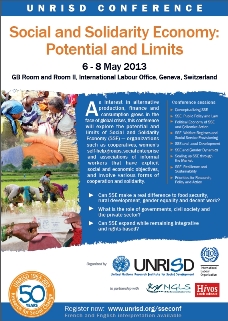 This symposium of the United nations Research Institute for Social Development seeks to:
(i) understand the conditions and contexts that enable social and solidarity economy (SSE) to expand; and
(ii) assess the implications of such processes and interactions with external actors and institutions for realizing the potential of SSE as a distinctive approach to development.
As interest in alternative production, finance and consumption grows in the face of global crises, this conference will explore the potential and limits of Social and Solidarity Economy (SSE) — organizations such as cooperatives, women's self-help groups, social enterprise and associations of informal workers that have explicit social and economic objectives, and involve various forms of cooperation and solidarity.
Through this event UNRISD aims to raise the visibility of debates about SSE within the United Nations system and beyond, and contribute to thinking in international policy circles about a post-2015 development agenda.
Key questions
Can SSE make a real difference to food security, rural development, gender equality and decent work?
What is the role of governments, civil society and the private sector?
Can SSE expand while remaining integrative and rights-based?
Sessions include

Conceptualizing SSE


SSE, Public Policy and Law


Political Economy of SSE and Collective Action


SSE, Welfare Regimes and Social Service Provisioning


SSE and Local Development


SSE and Gender Dynamics


Scaling up SSE through the Market


SSE, Resilience and Sustainability


Priorities for Research, Policy and Action
More information
Click to view the provisional agenda
Click to view the SSE Project Brief
Find out more on the project page for the associated UNRISD project, Potential and Limits of Social and Solidarity Economy
Register now
To register for the conference, please use the online registration link provided on the top right of this page.
Related events
UN-NGLS (UN Non-Governmental Liaison Service) will be organizing a special session on alternative finance and complementary currencies during the afternoon of 8 May 2013 following the end of this conference.
This conference is being co-organized with the ILO in collaboration withUN-NGLS.