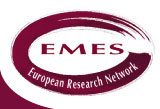 The EMES European Research Network, in partnership with the Centre for Social Economy at HEC Management School of the University of Liege, invites you to the
4th EMES International Research Conference on Social Enterprise If Not For Profit, For What? And How?, University of Liege (Belgium), July 1-4, 2013
Conference information
In a truly worldwide and interdisciplinary perspective, this conference will discuss social enterprise and social entrepreneurship through the growing diversity of approaches that have developed in the last two decades.
Around social enterprise and social entrepreneurship, the conference will bring together research streams related to the third sector (non-profit sector, social economy, solidarity economy) and research communities focused on emerging themes such as social innovation, social impact assessment, hybrid organisations, social franchising and venture philanthropy, among others.
Download the call for papers here.
For its 20th anniversary, the Centre for Social Economy will host the conference at HEC Management School - University of Liege, in a 1,000-year old city in the very heart of Europe.
Important dates
November 30, 2012 Deadline for abstract submission and panel proposals by authors seeking an early notification of acceptance/rejection
December 20, 2012 Notification of acceptance/rejection to authors seeking an early decision
February 15, 2013 Final deadline for abstract submission and panel proposals
March 29, 2013 Notification of acceptance/rejection to authors
April 26, 2013 Early-bird registration at reduced fees
June 15, 2013 Deadline for full paper submission
June 20, 2013 Deadline for conference registration
July 1, 2013 Conference starts