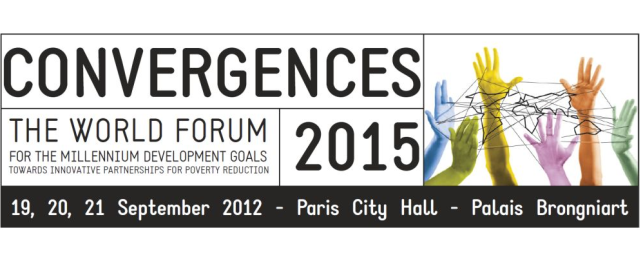 Online registration is now opened to take part to the 5th edition of the Convergences 2015 world Forum.
Over 3,000 professionals and experts will meet during 3 days on 19, 20 and 21 September 2012 in Paris (France) to build together tomorrow's answers to today's social and environmental challenges faced by developed and developing countries. The world Forum will bring together the leading operators from social entrepreneurship, social and solidarity economy, microfinance, and the international aid sector.
We have the pleasure to share the forecast program of the World Convergences 2015 Forum with two highlights: the professional days on 19 and 20 September 2012 at the Palais Brongniart (Paris) and 21 September dedicated to the Great Debates with Le Monde newspaper hosted in Paris City Hall.
This 5th edition will see 50 round tables, workshops and conferences, 100 projects and key organisations showcased in the Marketplace, key events and first-class participants (Sam Daley Harris, Jon Lomoy, Antonio Meloto, Michel Camdessus, Antoine Frérot and Christian Sautter will attend among many more expected key participants).
Our objective in 2012: promote and foster new convergences and innovative partnerships between all actors and operators, private, institutional and solidarity-based, dedicated to sustainable poverty reduction.
Be part to this next edition of Convergences 2015 world Forum, for more impact against poverty.